Airbnb key exchange made easy!
Host with confidence! We're a Host Assist partner of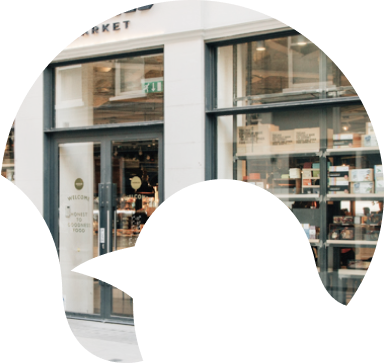 Step 1
Drop your keys at your local KeyNest Store
It takes 30 seconds to create your KeyNest account and you'll receive a drop-off code instantly. Then just bring your keys to the KeyNest Store, where we'll attach a tracking fob and place them in our secure safe.
Step 2
Send the collection code to your guests
Share the KeyNest location and the unique 6-digit collection code with your guest.

They just have to share this code with the shopkeeper and they'll be able to take the keys away.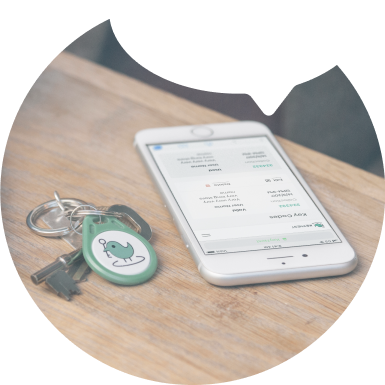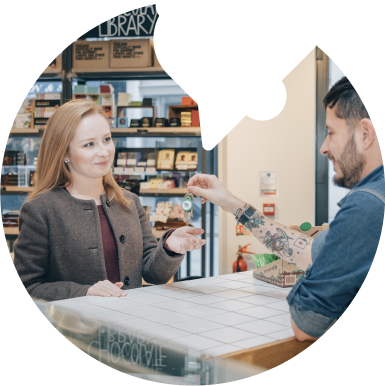 Step 3
Get notified every time your keys are collected or returned
Sit back and relax – we'll let you know whenever your keys are collected or dropped off.

Returning them is as easy as handing them back to the staff at our KeyNest Store.
Easy signup – You can cancel any time

Find your nearest
KeyNest Store
Easy signup – You can cancel any time

Pricing
We have three price plans that all feature online key tracking and 24/7 support. Just choose to be billed annually, monthly or per collection, depending on how often you'll be using KeyNest.
Pay as you go
€5.95
per key collection
€7.32 inc. VAT
drop-off is always free
key storage for 30 days
online key tracking
24/7 call support
Yearly
Subscription
€12.95
per month
€15.93 inc. VAT
billed annually
unlimited key collections
unlimited key storage
online key tracking
24/7 call support
Monthly
Subscription
€16.95
per month
€20.85 inc. VAT
billed monthly
unlimited key collections
unlimited key storage
online key tracking
24/7 call support
Easy signup – you can cancel any time!

Frequently Asked Questions
Not sure how to add your keys to KeyNest? Not sure which plan to go for? The questions we get asked the most are below. Can't find what you're looking for? Reach out to our friendly support team by email or give us a ring on +44 203 633 4599.
What are KeyNest Stores?
KeyNest Stores are our network of locations that provide a smart key exchange service, allowing you to securely store keys so that someone else can collect them later. Our stores are a variety of independent local businesses such as newsagents and cafés.
Is KeyNest right for me?
KeyNest is ideal for anyone who wants to securely give access to a property, such as:
Airbnb hosts sharing keys with guests and cleaners
Short-term rental companies sharing keys with guests, cleaners, greeters, or maintenance staff
Real estate agents sharing keys with contractors and staff
Busy urban residents sharing keys with their friends, cleaners or contractors.
Is KeyNest secure?
We understand that you want everything to be okay when you're giving someone else access to your home. Your keys are stored securely and attended by trained staff. We will never ask you to provide us with your exact address, so the identity of your keys will be protected at all times. You'll also be able to track your keys with our automatic notifications or by going to your dashboard. Head over to our security section to find out more.
Which plan is right for me?
We have three price plans, and you can choose the best plan for you based off how often your keys will be collected. Pay monthly is our most popular subscription plan, and we recommend it for Airbnb hosts with a busy booking schedule. Pay yearly is our best value subscription plan. If you're using KeyNest as a one-off then we also offer a pay as you go plan.
Where is my nearest KeyNest?
We have over 2500 locations across the Europe and North America, so your local KeyNest is probably just around the corner. Head over to our locations map to find your nearest KeyNest Store.
How do I add new keys to my account?
Adding your keys only takes 30 seconds! Sign up or log in and you'll be promoted to add a new key. Then just choose your local KeyNest and select your plan, and your key will be added to your account.
How do I drop off my keys?
After you add a key in the My Keys section online, you will receive a 6-digit drop-off code. The staff at our store will enter the code on their device and attach one of our fobs. The keys will then be scanned and stored securely.
How are my keys collected?
Generate a collection code from the my keys section of your dashboard and send the details to the person who will be collecting the key. They can then collect the key by sharing the code with the staff at our store.
How will I know if my keys have been collected?
Every time your keys are dropped off or collected at one of our stores you'll automatically receive an email notification with the details. You can also see the movement history of your keys at any time by logging into your KeyNest dashboard.
How are my keys returned?
Your keys just need to be handed back to the shopkeeper, who will scan them and store them securely.
What should I do if my Airbnb guest is arriving late?
All of our locations have long opening hours, but if your guest still won't arrive on time you can either transfer the keys to one of our 24-hour KeyNest Stores. You can find these locations over on our store map. If you're not able to transfer the keys yourself give us a call and we'll be able to recommend a courier service.
What should I do if I lose or damage my KeyNest fob?
Our fobs are pretty sturdy, but if they're damaged or lost give us a call on +44 203 633 4599 and we'll sort it out.
Join over 10,000 clients who trust KeyNest to manage their keys